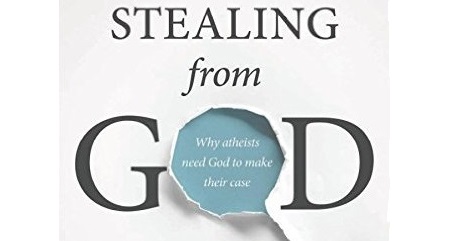 The Philosophical Proof of God
—
"Stealing From God: Why Atheists Need God to Make Their Case" by Frank Turek:
This is one book that I wish that I had the education, talent, and experience to write. It has been a very fascinating book! I thoroughly enjoyed every page of it. I love books that enlighten me and make me think!
STEALING FROM GOD

Stealing from God: Why Atheists Need God to Make Their Case
—
Here's another one from the same author, Frank Turek, "I Don't Have Enough Faith to Be an Atheist". I love this book, even if Norm Geisler (the co-author) discounts or marginalizes the particular religion that I have embraced and chosen to support.
Norman L. Geisler needs to spend a bit more time studying the New Testament so that he can see that his starting conclusion of monotheism is false. If you start with the wrong assumption, then you will end up with the wrong conclusion.
John 10: 34-38:
34 Jesus answered them, Is it not written in your law, I said, Ye are gods?
35 If he called them gods, unto whom the word of God came, and the scripture cannot be broken;
36 Say ye of him, whom the Father hath sanctified, and sent into the world, Thou blasphemest; because I said, I am the Son of God?
37 If I do not the works of my Father, believe me not.
38 But if I do, though ye believe not me, believe the works: that ye may know, and believe, that the Father is in me, and I in him.
That's polytheism there. You have Jesus telling them that they are gods in embryo. Jesus is also telling them that He is God; and, that He is praying to God the Father who is also a God. Even though Jesus Christ is a God, he was never praying to himself. Jesus was always praying to God the Father, who is also a God. Jesus Christ repeatedly claims to be the literal Son of God the Father. That's polytheism! Gods siring Gods.
Acts 17:24-30
24 God that made the world and all things therein, seeing that he is Lord of heaven and earth, dwelleth not in temples made with hands;
25 Neither is worshipped with men's hands, as though he needed any thing, seeing he giveth to all life, and breath, and all things;
26 And hath made of one blood all nations of men for to dwell on all the face of the earth, and hath determined the times before appointed, and the bounds of their habitation;
27 That they should seek the Lord, if haply they might feel after him, and find him, though he be not far from every one of us:
28 For in him we live, and move, and have our being; as certain also of your own poets have said, For we are also his offspring.
29 Forasmuch then as we are the offspring of God, we ought not to think that the Godhead is like unto gold, or silver, or stone, graven by art and man's device.
30 And the times of this ignorance God winked at; but now commandeth all men every where to repent.
We are God's offspring. That's polytheism there! There is talk of a Godhead — Gods — or the head of the Gods. That's polytheism!
1 Corinthians 8: 5-6:
5 For though there be that are called gods, whether in heaven or in earth, (as there be gods many, and lords many,)
6 But to us there is but one God, the Father, of whom are all things, and we in him; and one Lord Jesus Christ, by whom are all things, and we by him.
That's polytheism. Paul is telling us that there are many Gods and many Saviors (Lords) and many earths; but where we are concerned, there is only God the Father and our Savior Lord Jesus Christ as our Gods and Lords. Paul is talking about Gods. That's polytheism!
Philipians 2: 5-9:
5 Let this mind be in you, which was also in Christ Jesus:
6 Who, being in the form of God, thought it not robbery to be equal with God:
7 But made himself of no reputation, and took upon him the form of a servant, and was made in the likeness of men:
8 And being found in fashion as a man, he humbled himself, and became obedient unto death, even the death of the cross.
9 Wherefore God also hath highly exalted him, and given him a name which is above every name.
That's polytheism again. Here in mortality Jesus Christ was striving to become equal to God the Father. God the Father has made Jesus Christ a God just like Christ's Father is a God. God the Father exalted Jesus Christ and made Jesus Christ a God. That's polytheism!
Matthew 5: 48:
48 Be ye therefore perfect, even as your Father which is in heaven is perfect.

Revelation 3: 19-22:
19 As many as I love, I rebuke and chasten: be zealous therefore, and repent.
20 Behold, I stand at the door, and knock: if any man hear my voice, and open the door, I will come in to him, and will sup with him, and he with me.
21 To him that overcometh will I grant to sit with me in my throne, even as I also overcame, and am set down with my Father in his throne.
22 He that hath an ear, let him hear what the Spirit saith unto the churches.
That's polytheism once more. Here Jesus Christ is offering and commanding each one of us to become Gods and to sit down with Him on His Father's throne. It doesn't become any more polytheistic than that!
So, Norman L. Geisler, the Bible tells us that the True Religion is polytheistic — that you and I can become Gods and sit down with Christ on God's throne. Do you know of any modern-day polytheistic religions that qualify? Do you know of any modern-day religions where the priesthood of God resides and the miracles of God are being performed?
With the exception of Geisler's erroneous attack on polytheism, "I Don't Have Enough Faith to Be an Atheist" is just an awesome book!
I Don't Have Enough Faith to Be an Atheist
I highly recommend "Stealing from God" and "I Don't Have Enough Faith to Be an Atheist".
These books clearly expose the made-up nonsense that the Atheists, Evolutionists, and Darwinists have been feeding us for decades.
—
I used some of what I learned from these books in the following conversations:

How Do You Prove That God Exists?
Evidence for the Nephites' Existence
You will have to judge for yourself if I successfully made my case.
Any of John Lennox's books will help you to defend your theistic beliefs with logic and reason!
Darwin Max Bagley
—
Cross References:

You Can't Even Give Away Good News or God News
The Philosophical Proof of God
Forum Discussion about The Philosophical Proof of God