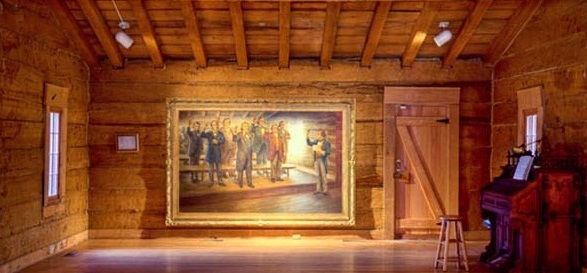 Let My Servant Brigham Young Step Forth:
The only thing that truly makes a man great is when God chooses to appear to that man, chooses to speak to that man, or chooses to interact with us through that man.  God remains forever unknown, unless He chooses to reveal Himself to us.  Religion and church have no saving value, unless God reveals Himself through that religion or church.  Religion and church are pointless in the long run, unless they bring us to God and help us to find God for ourselves.
These realities have had a deep impact on my choice of religion and church.  If God isn't there inside a religion or church interacting with the leaders and members of that church, then there's really no reason for me to be there either.  The purpose of life is to find God. If God isn't attending a particular church, then why should I?  Why would anyone want to be a member of a church that doesn't believe itself to be God's own church or The True Church? Why would I want to be a member of a church that God doesn't claim as His Church?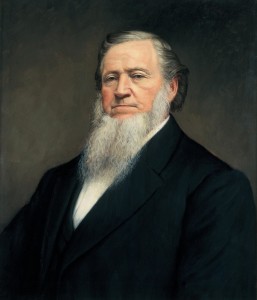 On this blog, I want to quote my most favorite instances when God has chosen to interact with man.  I'll start with this quote, which I believe that every person should be made aware of:
Joseph E. Cardon and Samuel O. Bennion, eds., "Testimonies of the Divinity of the Church of Jesus Christ of Latter-day Saints by Its Leaders" [Independence, Mo.: Press of Zion's Printing and Publishing, p.111-114:

From: President Orson Hyde

Member of the First Council of Twelve from February 15, 1835, to November 28, 1878, and President of the Quorum from December 5, 1848, to October, 1875.

______________

I cannot but express my gratitude to God that I am a member of that Church which is everywhere spoken against, even the Church of Jesus Christ of Latter-day Saints. I am thankful to God, my Heavenly Father, that He has revealed the everlasting Gospel in its fullness, and made me, as well as many of you, the honored instruments to proclaim it to all nations, kindreds, tongues, and people, wherever our lots may be cast.

Of all people upon the face of the whole earth, none have so great reason to be thankful as we. We are brought into the school of Christ to be instructed in the laws, spirit, and policy of His kingdom.

Many of you will bear in mind that at our last Conference, six months ago, many of the speakers bore powerful testimony to the truth and certainty of the cause in which we are engaged; and you will also recollect that I told you then that that testimony would seriously affect all nations and people – that it would be felt throughout the entire world – that it would be borne by an invisible hand, and its influence, like the frosts of autumn, blight the growing and flourishing prospects of all political and worldly schemes and enterprises. Contemplate now, through the glass of the public newspapers and journals, the condition of the nations of Europe, of Asia, and of America! Our own favored land is in commotion. The political elements are heavily charged with electricity, and the lowering storm-clouds are gathering in our horizon, threatening to avenge the blood of martyred Prophets and Apostles, and the inhumanity and cruelty practiced upon the Saints of God. None of those things are forgotten. They are written with imperishable characters in the memory of this people, and their cries and their prayers have transmitted them to the sacred records above, to be answered in their behalf by storms, by tempests, by whirlwinds, by earthquakes, by famines, by the sword, and also by flames of devouring fire.

The testimony of the servants of God forcibly reminds me of a certain class of men spoken of in the Revelation of St. John, who overcame by the blood of the Lamb and by the word of their testimony. When our testimony goes forth we cannot always tell exactly where it may take effect; but we know that it will not return void. It must fall somewhere. It is like the seeds plants and flowers, which are often carried high in the air and wafted on the breeze to a remote distance; yet the laws of gravity will ultimately compel them to a resting place, where their effects may be seen.

For me to testify to you that "Mormonism" is true – to declare destiny and final triumph – would be like telling you that the sun shines. It is something that you see, and consequently know; yet it is not at all likely that the sun now shines in the eyes of all people. Hence I volunteer my testimony. You may regard it in the light of a ship-of-war taking in her shot and shells at a home port, that are designed to batter down an enemy's wall on a foreign shore.

What is called "Mormonism" by the world is the fullness of the everlasting Gospel-the truth of God-the only way of salvation for all people to whom it is made known or in any way declared. Hear it, all ye people! "Mormonism" will win its way through the world, and triumph in the face of any and all opposition. There is a God that never sleeps, an eye that never slumbers, and an arm that never becomes feeble. This God is our God, and through our agency He has decreed the triumph of His cause. "Fear not, little flock; it is your Father's good pleasure to give you the kingdom." There is no man on earth, no people on earth, no nation on earth, no kindred or tongue on earth, or the whole combined, that raises the hand or voice against the kingdom of God or its policy as now established, but that will be rejected of God, dishonored of men, and go to ruin with the wrath of Heaven upon them.

Having the spirit of our calling, we wax bold in our testimony. When a few more Conferences shall have been held by this people, compare the coming history of nations with this my testimony, and you will be satisfied that I now tell you the truth.

First and foremost, I will briefly allude to some aspirants to office and honors in the Church of which we are members. There have been aspirants to the Presidency of this Church ever since the death of Joseph Smith, and even before. I have read the writings of every aspirant to the presiding Priesthood in this Church since the days of Joseph the Prophet. I have marked their cold, dry, technical, husky and spiritless reasonings from the Book of Mormon, from the Doctrine and Covenants, Bible, etc. I have never discovered one burst of the Spirit of God in all their claims or publications.

Who ever read Brigham Young's writings in which he has to establish his right and claim to the Presidency of the Church? No one. God pleads His own cause through Brigham Young, because he obeys Him; but man has to plead the cause of man who is sordid, illiberal, murmuring, and corrupt.

Speaking of the return journey to Winter Quarters from the Salt Lake Valley, during which the Apostles conversed on the subject of reorganizing the First Presidency, and of the meeting of the Council held December 5, 1847, at which Brigham Young was unanimously sustained as President of the Church, Elder Hyde says:

We were in prayer and council, communing together; and what took place on that occasion? The voice of God came from on high, and spake to the Council. Every latent feeling was aroused, and every heart melted. What did it say unto us? "Let my servant Brigham step forth and receive the full power of the Presiding Priesthood in my Church and kingdom." This was the voice of the Almighty unto us at Council Bluffs, before I removed to what was called Kanesville. It has been said by some that Brigham Young was appointed by the people, and not by the voice of God. I do not know that this testimony has often, if ever, been given to the masses of the people before; but I am one that was present, and there are others here that were also present on that occasion, and did hear and feel the voice from heaven, and we were filled with the power of God. This is my testimony; these are my declarations unto the Saints – unto the members of the kingdom of God in the last days, and to all people.

We said nothing about the matter in those times, but men, women, and children came running together where we were, and asked what was the matter. They said that their houses shook, and the ground trembled and they did not know but that there was an earthquake. We told them that there was nothing the matter – not to be alarmed; the Lord was only whispering to us a little, and that He was probably not very far off. We felt no shaking of the earth or of the house, but we were filled with the exceeding power and goodness of God. We knew and realized that we had the testimony of God within us.

A general Conference of the Church on the Missouri was held December 24 to 27, 1847, on the Iowa side of the Missouri River. On the last day of this Conference the First Presidency – Brigham Young, Heber C. Kimball and Willard Richards – chosen by the Apostles on the fifth of the month, were unanimously sustained by the vote of the Saints.

(That is Vox Dei, vox populi.) Yes, the voice of God was the voice of the people. Brigham Young went right ahead, silently to do the work of the Lord, and to feed His sheep, and take care of them like a faithful shepherd, leaving all vain aspirants to quarrel and contend about lineal descent, right, power, and authority. I bear testimony unto you that the priesthood has been given to man, that "whatsoever ye shall bind on earth shall be bound in heaven, and whatsoever ye shall loose on earth shall be loosed in heaven." I rejoice in the truth, and I bear my testimony that Joseph Smith was a Prophet of the true and living God. I bear my testimony that Brigham Young, the President of the Church, is a man of God, and that he is carrying on the work that Joseph Smith began. I know that the Gospel which we have received and which is called "Mormonism" is the truth of God; He has spoken and I know it, because I have heard His voice, and know the voice of the Good Shepherd, and am thankful that I have felt His power. Hear it, ye people! Hear it, ye that mock at the authority of God, and remember that I have declared and borne testimony that the kingdom of God has come nigh unto you.

President Orson Hyde
The greatest events in human history always take place when God chooses to reveal Himself to man.
I have noticed among the Latter-day Saints in recent years, there has been a great winnowing taking place. Those who are leaving or becoming disaffected have never been made aware of this account, or they simply choose to believe that it isn't true. It's easy for a disaffected Latter-day Saint to run to someone else if they truly believe that God and Christ stopped backing the LDS Church after Joseph Smith was martyred; and, there are plenty of pretenders out there claiming to be the Davidic Servant that these people can run to. Every decade there is someone new who arises and claims to be Joseph Smith's true successor, and many people fall for it.
If I'm ever in doubt, though, I like to run the numbers. A First Presidency and Twelve Apostles in sync with the Lord's will are fifteen times better than a self-proclaimed apostle who claims to know God's will or claims to have seen God. I'll stick with the Twelve. My odds are greater that I'll end up being right in the end.
Enoch
______________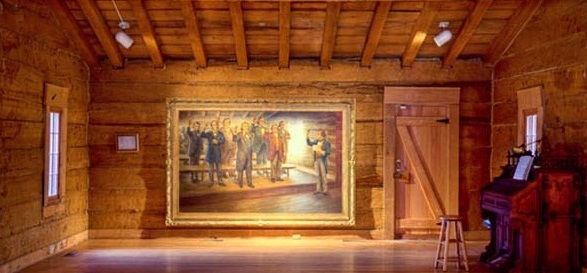 The Kanesville Tabernacle where Brigham Young was sustained as the President of the Church of Jesus Christ of Latter-day Saints.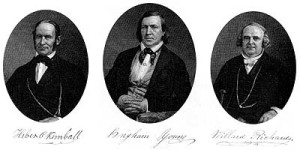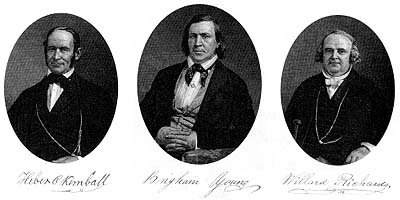 Discuss this topic here:
God Chose Brigham Young to Replace Joseph Smith
The pictures are linked to their source.